While out running today I was listening to an interview with Stefano Mastrogiacomo (@smastrog) on The Everyday Innovator Podcast TEI #325. Stefano has authored the book High-Impact Tools for Teams with Alex Osterwalder.  This is one of those Strategyzer books that provides some really straightforward how-to advice combined with templates.
Stefano's expertise is around understanding what makes teams motivated and successful.  The book has 5 different tools, you'll have to pick up the book to see them all.  What I want to focus on here is the one that he went deeper on during the interview with Chad McAllister – the Team Alignment Map.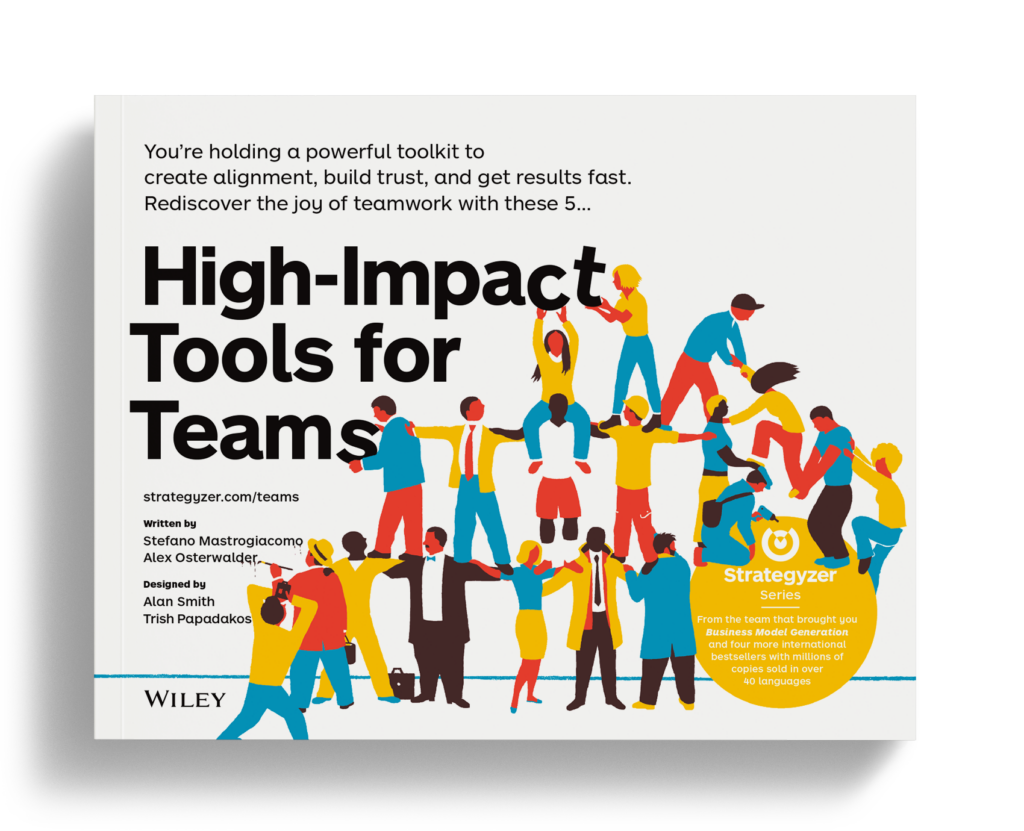 Team Alignment Map
The Team Alignment Map is a simple tool to help teams drive alignment.  Stefano described it as being very useful during the initial formation of a team.  However, as I listened to the description of this map, it became clear to me that this could be a simple vehicle to rollout on a quarterly basis during OKR planning.
The four categories are:
Joint Objectives: Why has this team been brought together?
Joint Commitments: How will each member contribute?
Joint Resources: Do you have what is needed to succeed?
Joint Risks: What could go wrong?
 
As Stefano tells it, you start with naming the mission as the headline.  Then the team jointly discusses these subjects from left to right through the map.  Once they get to the Joint Resource and Joint Risks discussion they need to loop back and identify the additional objectives necessary to tackle those risks and resource gaps identifies.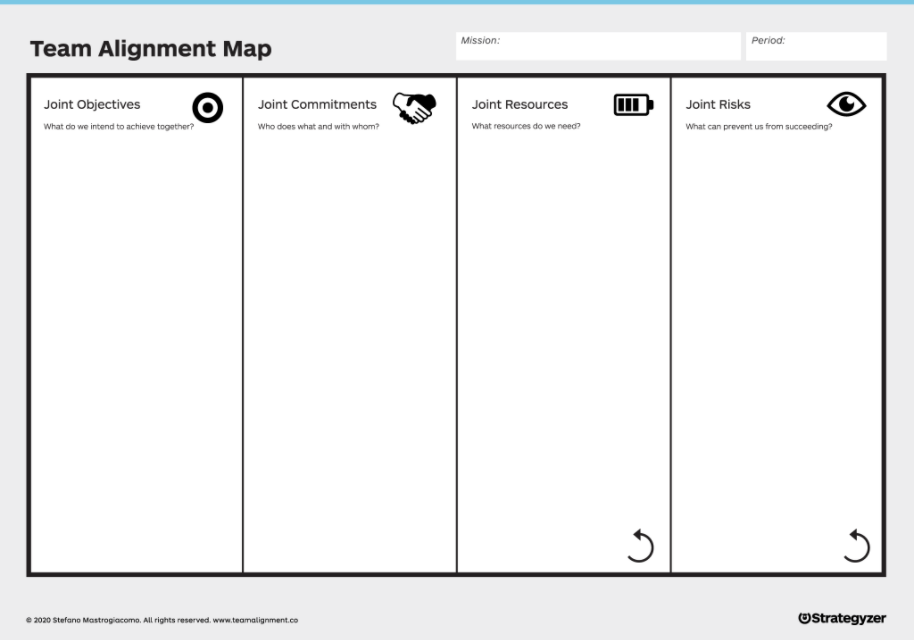 Quarterly Objective Planning
Whether you use OKRs or some other quarterly business planning framework to provide team focus, this tool can be the perfect device to structure those discussions.   Too often, with OKRs, organizations will focus on the tactical challenge of what are the objectives we have been assigned?  Do we agree?  What Key Results can we signup for that can be indicators of driving toward those objectives?
These are fantastic discussions.   However, sometimes they miss getting everyone on the team on-board.
By opening up the discussion to the entire Product Team, using the Team Alignment Map as a framework, I believe teams can be more aware of the risks and resource needs going into the new quarter. They can seek to mitigate these BEFORE agreeing to KRs back to their management team.
This doesn't change anything in the OKR process, it only gives a little more structure to ensure fast-moving teams give more thought before committing to their KRs.  In the end the whole organization wins through just a little extra forethought.
Conclusion
Once again the team at Strategyzer has come out with an incredibly simple tool that can have real world benefits in ensuring alignment within a Product Team. While Stefano comes from a project management background, his concept of the Team Alignment Map is simple and useful.
While this is a useful tool in many contexts, I think it has a clear fit in OKR setting.
OKRs are about providing a team with alignment during a quarter (or other period). However, the act of defining them as a Team is the triggering event that defines the potential for successfully achieving them. Revisiting this alignment map each quarter will ensure the team is aligned and motivated.